3rd place Australian Bridal Industry Awards 2017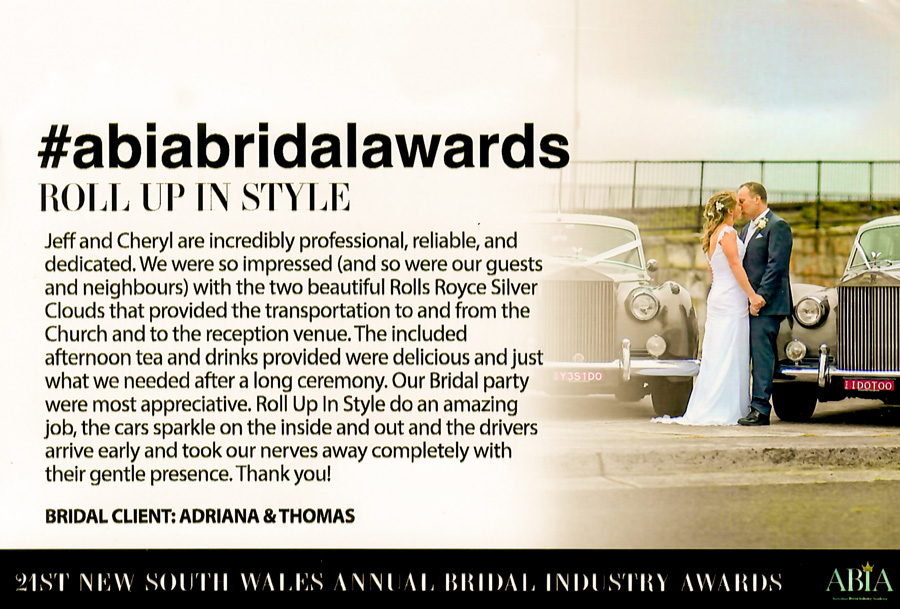 ---
"I will always recommend your service"

Jake and I would like to thank Jeff and Cheryl for their amazing service on our wedding day!

My husband organised the cars with Jeff and from the start Jeff has been very prompt and always reply on time. My husband only organised 2 cars when he was suppose to get 3 cars. Jeff and Cheryl noticed on the wedding day and instead of requesting for added money for the 3rd car (most companies do), they both called Jake and worked out a time to make sure my bridal party and Mum and I are able to arrive with 2 seperate cars while making sure the grooms get to the venue on time as well.

Jeff and Cheryl were both so accomodating. Cheryl was so amazing to me especially I was so nervous before the ceremony and she made sure my mum and I were comfortable.

Jake and I cannot thank you enough. I will always recommend your service.

Vanessa Murray
(December 2017)
---
"Highly recommended!"

For our wedding day we used Jeff and Cheryl's Bentley's.

I was extremely happy that I could have 3 cars that matched, a task that deemed a little tricky for the Southern Highlands area. The drivers were very kind and professional, and the cars were immaculate.

After our ceremony, we were fussed over ensuring we were all fed with some yummy snacks and drinks to keep our energy levels up! Highly recommended, thank you 'Roll up in Style' for helping make our wedding day perfect!

Alyce Stoddern
(November 2017)
---
"Thank you for making our dreams come true!"

Dear Jeff and Cheryl,
Thank you so much for the wonderful Silver Clouds and service you provided us with on our Wedding Day.

You were so professional and we appreciate your patience with everything even when the Church ceremony was unexpectedly longer than anticipated.

The food was so delicious and beautifully put together - just what we were needing!

Thanks again for everything and making our dreams come true,

Adriana and Thomas
(August 2017)
---
"Thank you!"

Hi Jeff,
It was a pleasure having you there and you did a fantastic job.

Your service on the day was amazing very attentive. My wife loved the fact that you would always cover the wheel when she got in and out of the car.

Your patience throughout the day was much appreciated, especially with all the chaos and people running around the place.

I loved the fact that you had some much needed snacks when everyone was starving. You were prepared for every situation.

I will definitely be leaving a great review on your FB and will recommend you to our friends and family who are getting married in the future.

Peter and Jean
(May 2017)
---
Thank you Jaquelyn and Jason for sending us a lovely card and such a warm review.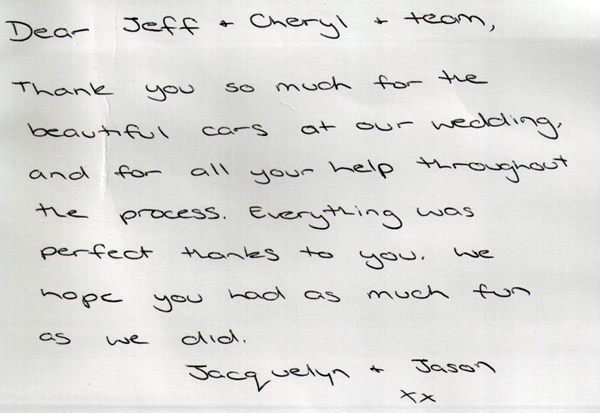 ---
"Thank you so much for making our day so special!"

I would highly recommend you to all my friends. Thanks again. xxx

Courtney Sheehan
(March 2017)
---
"We still can't believe how seamless and easy everything ran on the day!"

Dear Jeff & Cheryl,
Eric and I wanted to send you a little thank you to express how appreciative we are for what you did to make our special day just amazing on Saturday.

We still can't believe how seamless and easy everything ran on the day. All of your drivers were professional and really welcoming and accommodating.

We thank you all from the bottom of our hearts. If we had our time again, we wouldn't change a thing!

Sincerest Regards,
Brittany and Eric Pickford
(March 2017)
---
A few more of the reviews left for us on Facebook: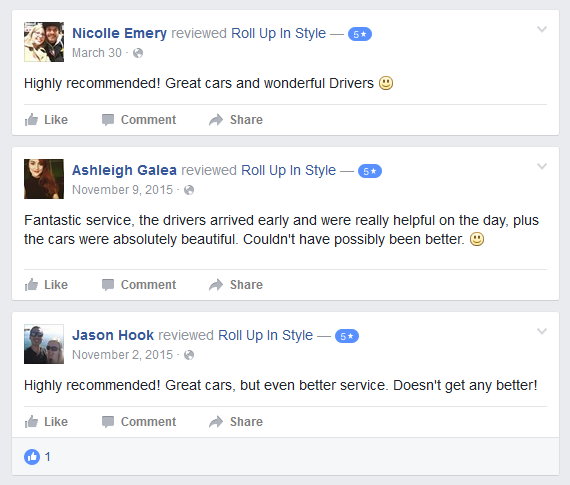 ---